"It is an honor to be recognized amongst the industry's most esteemed designers in the International Yacht and Aviation Awards! Retreat is an original Greenpoint Design interior, and this award showcases the immense talent of our entire team. Together we achieved a timeless, elegant interior equipped with progressive technologies and luxuries inspired by a world-class spa retreat," explains Annika Svore Wicklund, Greenpoint Design Director.

Hosted by leading interior design magazine "Design et al" and leading yacht and aviation design magazine "Luxe et al", The International Yacht & Aviation Awards celebrate the best in design from across the globe. Shortlisted entries were presented online, and voting was open to industry professionals, clients, customers and "Luxe et al" readers. Held in Venice, Italy, the well-established awards ceremony enables leading design firms to showcase their work and celebrate the finest design schemes, product launches and innovation in the yachting and aviation industries.

Greenpoint curated the award-winning BBJ MAX 8 interior, Retreat, for a distinguished world traveler focused on health and self-care priorities. The Greenpoint design team focused on biophilia and wellness trends to create the experience of a luxury spa retreat. The Retreat interior balances sustainable details

and live greenery with advanced technology concealed discreetly within the bespoke cabinetry. Key features include a master suite encased in gradient, opaque glass walls, internally lit terrariums, and oversized, outboard-facing OLED monitors displaying curated videos of the destination or views from external high definition (HD) cameras. Inspired by flowing water, the cabin ceiling features a panel system with a high-gloss metallic finish reminiscent of a river meandering throughout the interior.
Greenpoint's award-winning Retreat interior design concept is currently a finalist in the Society of British & International Design (SBID) Awards 2022.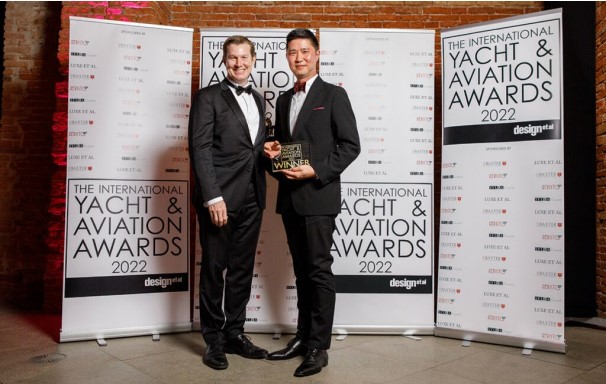 Contact: Sarah Hiskey
(425) 803-4905
Sarah.hiskey@greenpnt.com

Greenpoint Technologies is a premier Business Jet Completion Center, creating superior aircraft products and VIP completions with an exemplary 99 percent on-time delivery rate in 35 years of operation. Greenpoint is a Safran company. To learn more about Greenpoint, visit www.greenpnt.com. For a career in a results driven, people-centric and rewarding organization visit www.safran-group.com/jobs and search Greenpoint.

Safran is an international high-technology group, operating in the aviation (propulsion, equipment and interiors), defense and space markets. Its core purpose is to contribute to a safer, more sustainable world, where air transport is more environmentally friendly, comfortable and accessible. Safran has a global presence, with 76,800 employees and sales of 15.3 billion euros in 2021, and holds, alone or in partnership, world or regional leadership positions in its core markets. Safran is listed on the Euronext Paris stock exchange, and is part of the CAC 40 and Euro Stoxx 50 indices.
Source: