A Word From the Director General
Kurt Edwards
Many in the northern hemisphere this time of the year take time off for a summer holiday, and several of us at IBAC have done the same. Refreshed and focused on the second half of 2023, we have combined the July and August Update into one newsletter.

We expect the focus in Q3 and Q4 to continue with sustainability and Advanced Air Mobility, in addition to safety being top of mind. The IS-BAH Programme has continued to grow this year and in July released the new standard based on inputs from programme participants and the professional-expert volunteers from industry participating in the Standards Board. On the operator side of safety, the IS-BAO, in collaboration with Aviation Safety Solutions, launched a new self-paced online course, IS-BAO Protocol Standardization, for those seeking more knowledge of the standard protocols.
The ABAG membership proudly hosts the Latin American Business Aviation Conference and Exhibition (LABACE) in August. We look forward to the wonderful Brazilian hospitality that is coupled with much passion from the Latin American community for the growth and success of business aviation in this region. Visit us at stand #27G.

In addition, we would like to welcome our newest Industry Partner member, UAS International Trip Support. Our deepest gratitude to Omar Hosari and the UAS team as we look forward to working with them to strengthen IBAC's efforts on behalf of the business aviation industry.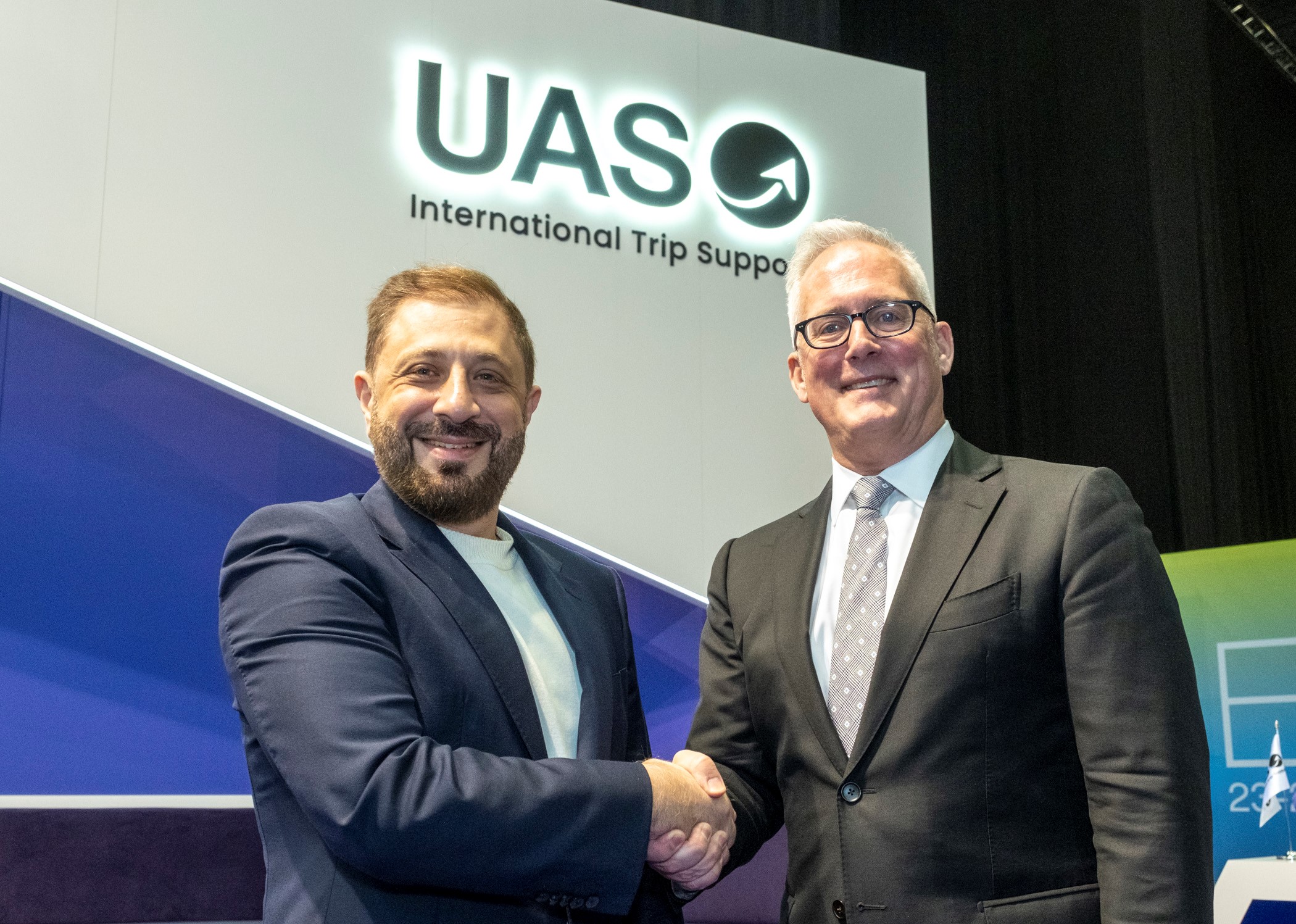 ICAO
Andreas Meyer, ICAO Liaison
The ICAO Counsel and Air Navigation Council are in summer recess, and the work of the ICAO expert groups has slowed down. IBAC is now preparing for ICAO Air Navigation World at the end of August. ICAO has invited Stephan DeWolf to speak on Safety Management, and Andreas Meyer will present on Air Ambulance Operations.
In the meantime, the IBAC Crew Card program is attracting a lot of interest, and the Montreal office continues to serve our clients with fast turnaround times for the crew card applications.
SUSTAINABILITY
Claude Hurley, Director, Environment & Flight Operations
IBAC was proud to represent the international business aviation community for a ceremony at ICAO in June where the Government of Canada and Bombardier donated the very first business aircraft model to be put on display at ICAO, a BBD G8000. Kurt Edwards took the stage to highlight business aviation's sustainability efforts, and our commitment to keep working with States and industry towards reaching NetZero by 2050 – a shared goal, as detailed in the Business Aviation Commitment on Climate Change and at ICAO's 41st triennial assembly.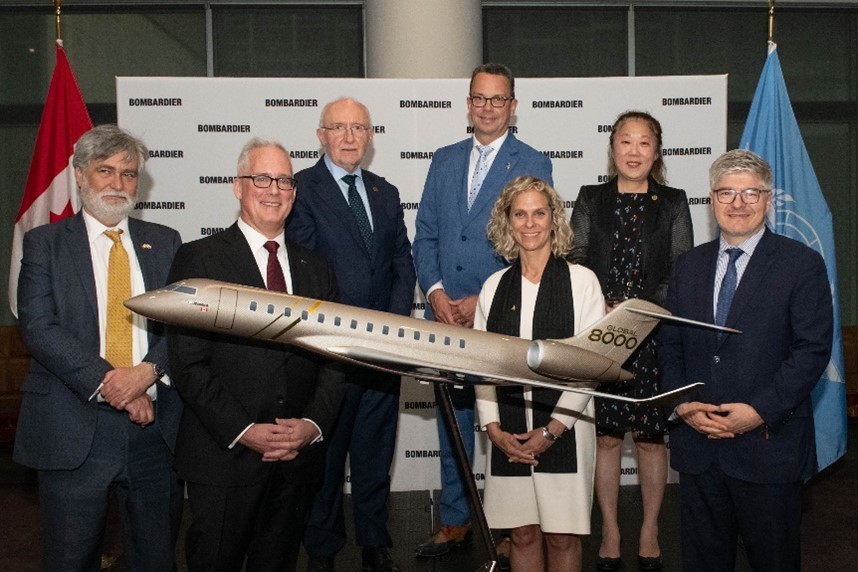 June also saw IBAC participate in an ICCAIA workshop with the aim to map out new ICAO goals for both emissions and noise stringencies, ahead of wider discussions amongst ICAO Committee on Aviation Environmental Protection (CAEP) members and observers.
In July, Kurt represented IBAC in the annual GAMA Environment Committee meeting, taking the opportunity to brief committee members on IBAC's environmental initiatives, as well as the challenge of building consensus around a climate finance emissions-reduction metric.
Also in July, CBAA hosted a very successful annual convention in Calgary, where Claude Hurley took the stage to join a panel discussion on the future of business aviation, highlighting the environmental challenges ahead; the opportunities presented by Sustainable Aviation Fuels (SAF), as well as the potential impact of operational and technological improvements to get us to Net Zero by 2050. Claude also provided an overview of how IBAC participates in shaping future regulatory frameworks, such as with ICAO's Advanced Air Mobility Study Group.
July also saw IBAC participate in ICAO's Stocktaking Seminar with a special focus this year on fuel and clean energy-related approaches. IBAC supports CoSAFA's efforts to create a transparent Book & Claim methodology, and applauds CoSAFA's Executive Director, Madison Carroll's presentation on Book & Claim in both the formal session on Certification and Accounting of Cleaner Energies for Aviation.
August will see ICAO host Air Navigation World 2023 , on the theme of Shaping the Skies of Tomorrow.
IS-BAH
Terry Yeomans, Programme Director
The 2023/2024 IS-BAH Standard is now available for download from the IS-BAH website portal (login required) to all eligible organizations. Please remember assessments from 01 July 2023 to 31 December 2023 may be assessed against either the 2022/23, or the 2023/24 IS-BAH Standard.
Your continued feedback and suggestions for improvements ahead of the next Standards Board in May 2024 is critical in ensuring the IS-BAH remains at the forefront of global handling best practices. Make your suggestions HERE.
IS-BAO
Andrew Karas, IS-BAO Programme Director
IS-BAO Standardization Protocols Course was launched in June in partnership with Aviation Safety Solutions to provide an online, self-paced, intuitive course for operators, safety managers, and auditors seeking further knowledge of the IS-BAO protocols. See the press release HERE.
LABACE 2023 - São Paulo, Brazil, 8-10 August – Join Daniel Devraignes, IS-BAO Deputy Director, and Kurt Edwards, Director General at the IBAC stand #27G during the biggest and most important business aviation event in South America.
ICAO Air Navigation World 2023 – Montreal, Canada, 28-31 August - IS-BAO Team Member Stephane De Wolf will be attending the ICAO Air Navigation World Conference. In support of IBAC's industry advocacy, Stephane will be joining other global stakeholders to provide expertise during discussions of future technologies and the evolution of the aviation system.
PS3 Roundtable – 21 September 2023­ – Stay tuned to our website and monthly updates for details and registration link. Past roundtable discussion and SafetyNet recordings are posted on our website and YouTube Channel (IBAC - YouTube).
VISIT THE IBAC STORE
We've added IBAC Swag, available to those who want to promote IBAC, and the IS-BAO, IS-BAH Programmes. (Note that IS-BAO and IS-BAH Registered organizations may choose to order items with official Stage seals through there IS-BA portal or contact comms@ibac.org for access.)

Upcoming Workshops
IS-BAO Fundamentals
July 17-18 at 0900-1330 US Pacific Time
August 21-22 at 0900-1330 US Pacific Time
September 18-19 at 0900-1330 US Pacific Time