A Word From Our Director General
Kurt Edwards
It was a pleasure to see so many industry friends in person in Geneva for EBACE in May. The exhibits, level of attendance, and the energy showed how vibrant business aviation is. On the opening day of the show, IBAC hosted the new ICAO Regional Director for Europe and the North Atlantic to improve his familiarity with our sector. EBACE's themes of sustainability and innovation were clearly apparent and reinforced continued cooperation between IBAC and ICAO.

IBAC was able to hold its first in-person meeting of the Governing Board in Geneva, with some representatives participating virtually. We are grateful both to those who came to Geneva and to those who joined the meeting from distant time zones.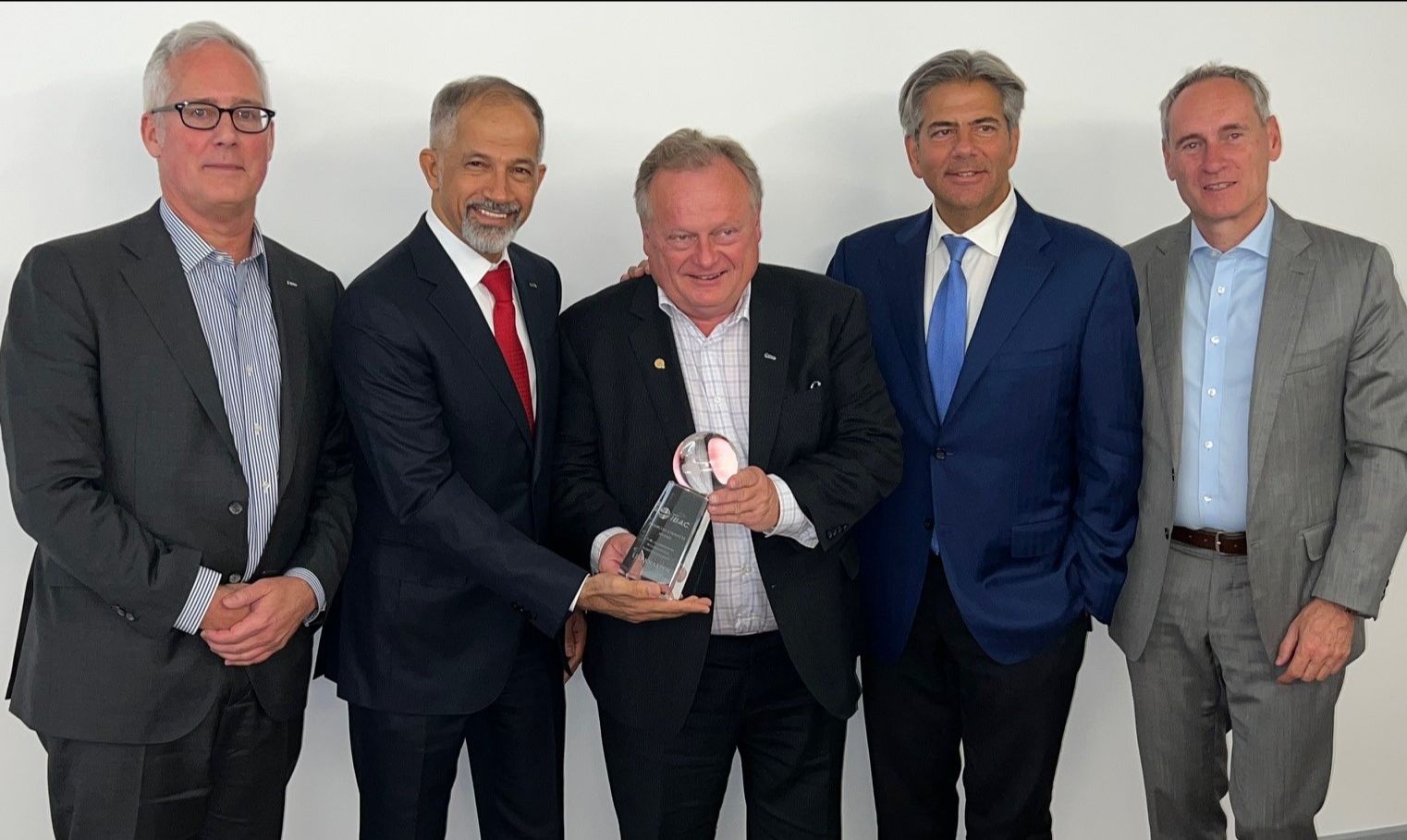 From Left to Right:
Kurt Edwards, IBAC Director General; Ali Ahmed Alnaqbi, IBAC Governing Board Chairman; Leo Knaapen, Bombardier, Chief Industry Affairs; Athar Husain Khan, EBAA Secretary-General; Juergen Wiese, EBAA Chairman
A highlight of the Governing Board meeting in Geneva was the International Dinner that took place following its adjournment. IBAC announced the establishment of the François Chavatte Award for Leadership in Business Aviation. The award is created in memory of François Chavatte, who was a business aviation pioneer in Europe, directing the IBM flight department at Le Bourget, co-founding EBAA, leading the fight to keep Le Bourget open to business aircraft, and serving as a representative on the IBAC Governing Board. We announced the award's first recipient, Leo Knaapen of Bombardier. Like François, Leo has been a tireless leader in advocating and promoting business aviation around the world, particularly in the domains of safety and sustainability. He is retiring this year and therefore stepping down as the Industry Partner representative on the IBAC Governing Board.

We are now looking forward to the CBAA 2022 Convention in Toronto in mid-June and to reconnecting with the Canadian community and sharing IBAC's work at ICAO, on sustainability, and in safety.

We also want to take this opportunity to send best wishes to Bruce Parry, IBAC Environment Director, as he assumes his new role with Bombardier later this month. Bruce has been instrumental in our sustainability efforts for the last six years and we thank him for all he has done for IBAC.
ICAO
Andreas Meyer, IBAC Director, ICAO Liaison
The ICAO Council and Air Navigation Commission were in recess. During this time, there were meetings of two principal ICAO Panels, the Flight Operations, and the Aviation Security Panel. Furthermore, the newly established Cybersecurity Panel, which was formed out of the previously known Secretariat Study Group on Cybersecurity (SSGC), held its inaugural meeting. IBAC continues to follow these discussions and remains engaged in these panels' important work.
IS-BAH
Terry Yeomans, Programme Director
May workshops a great success, July sessions are now open for booking.
IS-BAH Standards Board met in Geneva ahead of EBACE. The Standards Board discussed proposed changes that are planned for the July release of the 2022/23 version of the Standard. IBAC is grateful for the in-person and virtual participation of the IS-BAH Standards Board members – a concrete demonstration of an industry standard for the industry, by the industry.
EASA Rulemaking task force webinar on EU ground handling regulations to take place on June 30, all invited EU based GHSPs are encouraged to participate in this webinar.
IBAC awarded two workshop scholarships (one for IS-BAH and one for IS-BAO workshops) to Women in Corporate Aviation members. Read press release HERE.
IS-BAO
Andrew Karas, IS-BAO Programme Director
Participation at BASS 2022 was a great opportunity to discuss SMS evaluation methods with operators and industry partners.
We had a great PS3 meeting with Matt Robinson at Southern California Safety Institute where he presented several aircraft mishap case studies and lessons learned from the emergency response plans. Next meeting will be on June 23 with Steve Bruneau from Polaris Aero discussing "Turning Safety Reporting of Deviations and Outcomes into Causal Factors".
Great to see IS-BAO operators and auditors at EBACE in Geneva, thank you EBAA, NBAA, and our industry partners for such a great event.
Looking forward to BACE in October where the IS-BAO Standards Board will meet to discuss operator and industry partner suggestions to the standard. If you have suggestions for the IS-BAO Standard, please submit at the following link: Quality Feedback - Quality Submission Home Page (quickbase.com)
IS-BAO workshop schedule for the remainder of the year has been posted online. Register Now for early bird discounts and remember that workshops can be used to receive NBAA Certified Aviation Manager (CAM) credit.
SUSTAINABILITY
Bruce Parry, IBAC Environment Director
EBACE 2022 Offsetting Panel
Offsetting has become an important element to support the basket of measures that IBAC, its operators and the wider industry stakeholders will use as part of the overall decarbonisation of the sector through the aspirational goals of the Business Aviation Commitment on Climate Change (BACCC). As such, there was a panel held during EBACE 2022 on this very subject, moderated by Bruce Parry.

The panel included our own Director General, Kurt Edwards, Wayne Sharpe with Carbon Trade eXchange (who are IBAC's offset partner), Marsha Woelber with Embraer Executive Jets, Kennedy Ricci with 4AIR, and Stanley Bugeja of DC Aviation-Malta. Amongst other things, the panel discussed how offsetting delivers real emissions reductions and why OEMs are choosing an offsetting approach, especially since the availability of SAF is currently limited.

Offsetting Resources
Read the new Case Study – Journey to Voluntary Carbon Offsetting – featuring Stanley Bugeja of DC Aviation in Malta.

Learn more about offsetting from these IBAC dedicated resources to help you on your journey:
The IBAC EX webpage - https://ibac.org/sustainability/carbon-credit-exchange
A Basic Guide to Offsetting - https://ibac.org/app/ibac/files-module/local/documents/IBAC%20EX%20Brochure%20090621.pdf
Offset FAQs - https://ibac.org/files/documents/IBAC%20EX%20FAQ.pdf
A dedicated business aviation aircraft CO2 calculator (powered by Conklin & de Decker – a JSSI Company) is also available on the IBAC EX homepage*
*For the most accurate CO2 output from aircraft operations, IBAC recommends that CO2 should also be calculated through the actual use of fuel, by fuel uplift and operation. IBAC can help you with the information to be able to make these calculations.

New EBAA S.T.A.R.S Tier 1 Sustainability Label Launched at EBACE 2022 Read press release HERE.

Are you affected by CORSIA or any of the ETS compliance schemes in Europe?
IBAC would like to hear from you if you are affected by any of the compliance schemes aimed at reducing carbon emissions around the world. If you are, we would like to hear from you on your experiences, or where you might have experienced challenges with multiple layers of administration complying with different schemes at the same time. Please let us know through info@ibac.org.
Source: https://us11.campaign-archive.com